CCCC is proud to continue the tradition of publishing podcast episodes concerning the authors' work in every issue of CCC.
The episodes discuss the contexts of the authors' research and pedagogy projects that resulted in their published articles. We hope that the episodes will inspire CCC readers to implement at least some of the aspects of research, pedagogy, and writing practices that the authors discuss in the readers' scholarship and classrooms. We hope that you'll enjoy listening to the podcast episodes, as well as reading the full articles of the featured authors.
The podcasts were produced by the CCC editorial fellow (2019–2020), Kefaya Diab. The production includes arranging for and facilitating the recorded conversations, editing them into podcast episodes, and transcribing the audio episodes into text to facilitate readability accessibility to the journal's audience.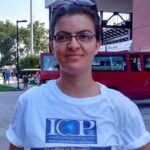 Kefaya Diab holds a PhD in rhetoric and professional communication. She currently serves as a postdoctoral fellow at Indiana University (2018–2021). In her research, she engages rhetorical theory and cultural (digital) rhetorics in theorizing activist movements in the Arab world. In teaching, she adopts a critical pedagogy and labor-based learning contracts that invite students to utilize digital rhetorics and composition as tools to promote social justice. Her work has appeared in Sexual Harassment and Cultural Change in Writing Studies, Composition Studies, and Paideia-16 Textbook. She can be reached on her personal website: kefayadiab.weebly.com.
Music used in the podcast episodes is "Live the Moment" by Mikael Manvelyan.
February 2020 Issue (Volume 71, Number 3)

Transcripts of the February 2020 Podcast Episodes
Episode 1: "From Dissertation to a Journal Article"
A conversation with Antonio Byrd, author of "'Like Coming Home': African Americans Tinkering and Playing toward a Computer Code Bootcamp." (10:36)
Episode 2: "Why We Need to Talk about Self-Care in Rhetoric and Composition"
A conversation with Dana Lynn Driscoll, S. Rebecca Leigh, and Nadia Francine Zamin, authors of "Self-Care as Professionalization: A Case for Ethical Doctoral Education in Composition Studies" (15:36)
Episode 3: "Design Thinking as a Process of Learning beyond Success or Failure"
A conversation with Scott Wible, author of "Using Design Thinking to Teach Creative Problem Solving in Writing Courses" (8:43)
Episode 4: "On Implementing Feminist Theory in the Writing Classroom without Naming It"
A conversation with Cassandra Woody, author of "Re-Engaging Rhetorical Education through Procedural Feminism: Designing First-Year Writing Curricula That Listen" (8:27)
Archive of Past CCC Podcasts
See below for links to podcasts recorded during the term of previous CCC editor Jonathan Alexander. Alexander and editorial assistants Jasmine Lee, Jens Lloyd, and Allison Dziuba talked with CCC authors about their articles. Authors discussed the origin stories for their research, connections between the articles and larger conversations in the field, and future directions for inquiry. Click on the author's name to access the recording.

Jerry Stinnett
A conversation with Jerry Stinnett, author of "Using Objective-Motivated Knowledge Activation to Support Writing Transfer in FYC" (16:20).
Zhaozhe Wang
A conversation with Zhaozhe Wang, author of "Relive Differences through a Material Flashback" (11:59).
V. Jo Hsu
A conversation with V. Jo Hsu, author of "Reflection as Relationality: Rhetorical Alliances and Teaching Alternative Rhetorics" (15:04).
Ira J. Allen
A conversation with Ira J. Allen, author of "Composition Is the Ethical Negotiation of Fantastical Selves" (19:46).
James Rushing Daniel
A conversation with James Rushing Daniel, author of "'A Debt Is Just the Perversion of a Promise': Composition and the Student Loan" (12:32).
Joyce Olewski Inman and Rebecca A. Powell
A conversation with Joyce Olewski Inman and Rebecca A. Powell, authors of "In the Absence of Grades: Dissonance and Desire in Course-Contract Classrooms" (11:59).
Rachael W. Shah
A conversation with Rachael W. Shah, author of "The Courage of Community Members: Community Perspectives of Engaged Pedagogies" (13:21).
Todd Ruecker, Stefan Frazier, and Mariya Tseptsura
A conversation with Todd Ruecker, Stefan Frazier, and Mariya Tseptsura, coauthors of "'Language Difference Can Be an Asset': Exploring the Experiences of Nonnative English-Speaking Teachers of Writing" (15:19).
Heather Lindenman, Martin Camper, and Lindsay Dunne Jacoby
A conversation with Heather Lindenman, Martin Camper, and Lindsay Dunne Jacoby, coauthors (with Jessica Enoch) of "Revision and Reflection: A Study of (Dis)Connections between Writing Knowledge and Writing Practice" (14:01).

Peter Wayne Moe
A conversation with Peter Wayne Moe, author of "Reading Coles Reading Themes: Epideictic Rhetoric and the Teaching of Writing" (10:43).
Deborah Mutnick
A conversation with Deborah Mutnick, author of "Pathways to Freedom: From the Archives to the Street" (17:58).
Hannah J. Rule
A conversation with Hannah J. Rule, author of "Writing's Rooms" (17:21).
Kelly Ritter
A conversation with Kelly Ritter, author of "With 'Increased Dignity and Importance': Re-Historicizing Charles Roberts and the Illinois Decision of 1955" (13:21).
Tara Wood
A conversation with Tara Wood, author of "Cripping Time in the College Composition Classroom" (8:57).
Sarah Klotz
A conversation with Sarah Klotz, author of "Impossible Rhetorics of Survivance at the Carlisle School, 1879–1883" (10:37).
Tyler S. Branson and James Chase Sanchez
A conversation with Tyler S. Branson and James Chase Sanchez, coauthors (with Sarah Ruffing Robbins and Catherine M. Wehlburg) of "Collaborative Ecologies of Emergent Assessment: Challenges and Benefits Linked to a Writing-Based Institutional Partnership" (10:47).
Jim Webber
A conversation with Jim Webber, author of "Toward an Artful Critique of Reform: Responding to Standards, Assessment, and Machine Scoring" (12:34).
Laurie Grobman
A conversation with Laurie Grobman, author of "Disturbing Public Memory in Community Writing Partnerships" (18:47).
David M. Grant
A conversation with David M. Grant, author of "Writing Wakan: The Lakota Pipe as Rhetorical Object" (11:31).
Steven Fraiberg
A conversation with Steven Fraiberg, author of "Pretty Bullets: Tracing Transmedia/Translingual Literacies of an Israeli Soldier across Regimes of Practice" (17:15).
Heather Bastian
A conversation with Heather Bastian, author of "Student Affective Responses to 'Bringing the Funk' in the First-Year Writing Classroom" (13:54).
Courtney L. Werner
A conversation with Courtney L. Werner, author of "How Rhetoric and Composition Described and Defined New Media at the Start of the Twenty-First Century" (20:26)
Jeffrey Ringer
A conversation with Jeffrey Ringer, author of "Working With(in) the Logic of the Jeremiad: Responding to the Writing of Evangelical Christian Students" (11:31)
Jessica Pauszek
A conversation with Jessica Pauszek, author of "'Biscit' Politics: Building Working-Class Educational Spaces from the Ground Up" (11:38)
Rebecca Brittenham
A conversation with Rebecca Brittenham, author of "The Interference Narrative and the Real Value of Student Work" (15:26)
Chris Mays
A conversation with Chris Mays, author of "Writing Complexity, One Stability at a Time: Teaching Writing as a Complex System" (12:47)
Eli Goldblatt
A conversation with Eli Goldblatt, author of "Don't Call It Expressivism: Legacies of a 'Tacit Tradition'" (16:08).
Chris M. Anson
A conversation with Chris Anson, author of "The Pop Warner Chronicles: A Case Study in Contextual Adaptation and the Transfer of Writing Ability" (18:22).
Jeffrey A. Bacha
A conversation with Jeffrey A. Bacha, author of "The Physical Mundane as Topos: Walking/Dwelling/Using as Rhetorical Invention" (8:35).
D. Alexis Hart and Roger Thompson
A conversation with D. Alexis Hart and Roger Thompson, coauthors of "Veterans in the Writing Classroom: Three Programmatic Approaches to Facilitate the Transition from the Military to Higher Education" (14:50).
Kristopher M. Lotier
A conversation with Kristopher M. Lotier, author of "Around 1986: The Externalization of Cognition and the Emergence of Postprocess Invention." (19:10).
Nathaniel A. Rivers
A conversation with Nathaniel A. Rivers, author of "Geocomposition in Public Rhetoric and Writing Pedagogy." (24:12)
Matthew Abraham
A conversation with Matthew Abraham, author of "Rhetoric and Composition's Conceptual Indeterminacy as Political-Economic Work" (19:10)
Ben Kuebrich
A conversation with Ben Kuebrich, author of "'White Guys Who Send My Uncle to Prison': Going Public within Asymmetrical Power." (15:15)
Jacqueline Preston
A conversation with Jacqueline Preston, author of "Project(ing) Literacy: Writing to Assemble in a Postcomposition FYW Classroom." (8:45)
Chase Bollig
A conversation with Chase Bollig, author of "'Is College Worth It?' Arguing for Composition's Value with the Citizen-Worker" (11:00)