Nomination Deadline Extended to December 1, 2022

Purpose: The Conference on College Composition and Communication (CCCC) seeks to recognize members of CCCC/NCTE who have consistently worked to improve the experiences of sexual and gender minorities within the organization and the profession.
Award Specifics: Nominations should include a letter of nomination, 3 to 5 letters of recommendation, and a full curriculum vita. Please send nominations to cccc@ncte.org by the extended deadline of December 1, 2022.

Recipients of this award will be recognized and receive a plaque at a reception during the CCCC Annual Convention. The winner will be notified in January 2023.
Stonewall Service Award Winners
2022
GPat Patterson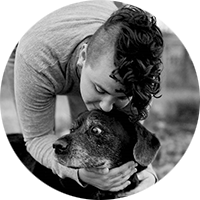 There was no hesitation among the committee members to choose Dr. GPat Patterson as the recipient of the 2022 Stonewall Service Award. Their research and publication record is extraordinary because they have added to queer theories with transgender rhetorics, considerably broadening the field. Patterson's research pushes the boundaries of LGBTQ work in the discipline, the classroom, and the community, impacting the lives of students, faculty, administrators, and community members. Their commitment to community is emphasized in the nomination letter from Christina V. Cedillo: "in the years I have known GPat, they have always demonstrated an unfailing dedication to social justice and equity across the many communities that make up our organization."   
Patterson's record of service is outstanding: as an essay contest judge, as a mentor to graduate students, as an interim Writing Program Administrator and trainer of graduate students, and through their service on multiple committees. Additionally, they have taken on significant administrative responsibilities to serve as the Kent State Tuscarawas LGBTQ Studies Coordinator, which involves student recruitment, in-person program representation at events, and devoting part of their teaching load to supporting the LGBTQ studies minor. Patterson has served on the Campus Pride Index Committee, on the Tuscarawas Campus Community Service Committee and the Diversity Committee; they will be taking up service as the Tuscarawas English program at-large FAC representative.  
Beyond the university, Patterson has served the profession through membership in the Trans and Gender-nonconforming Working Group, serving on the editorial board for Technical Communication Quarterly, and doing peer review work on manuscript submissions for the journals Women & Language, Journal of Homosexuality, Open Words, QED: A Journal in GLBTQ Worldmaking, and TCQ. Additionally, Patterson has served a two-year term as co-chair of the CCCC Queer Caucus and has served on the caucus's Lavender Rhetoric's Award committees. 
Possibly the most significant service that Patterson engages in is in their commitment to the community and community building outside of campus. Their community-based service work encompasses educational programming on queer and transgender issues for social workers and first responders, HIV testing events and awareness, campus-system-wide training on trans-inclusivity in the classroom, and regular LGBTQ film screenings. 
Finally, their dedication to social justice work is what makes GPat Patterson deserving of the 2022 CCCC Stonewall Service Award. 
2021
William P. Banks
2020
No winner.
2019
Harry Denny
2018
No award given.
2017
Joseph R. Jones
2016
Martha Brenckle
2015
Garrett W. Nichols
2014
Qwo-Li Driskill