Nomination Deadline: November 1
Purpose: The CCCC Executive Committee presents, as occasion demands, the CCCC Exemplar Award to a person whose years of service as an exemplar for our organization represents the highest ideals of scholarship, teaching, and service to the entire profession.
Eligibility: The Exemplar Award seeks to recognize individuals whose record is national and international in scope, or whose record is local and regional with national implications, and who set the best examples for the CCCC membership.
Award Specifics: Nominations should include a letter of nomination; four letters of support; and a full curriculum vita. The nominating material should be send to the CCCC Exemplar Award Committee at cccc@ncte.org. Nominations must be received by November 1, 2021.
Congratulations to the 2021 CCCC Exemplar!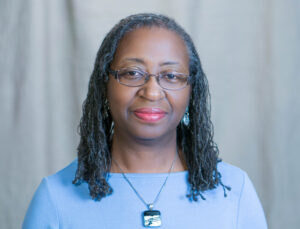 Beverly J. Moss is an associate professor of English at The Ohio State University where she specializes in composition and literacy studies. Professor Moss earned her BA in English from Spelman College, her MA in English with a specialization in rhetoric and composition from Carnegie-Mellon, and her PhD in English with a specialization in rhetoric, composition, and literacy from the University of Illinois at Chicago. Her scholarly and pedagogical interests include examining literacy in African American community spaces, composition theory and pedagogy, and writing center theory and practice. She is the author of A Community Text Arises: A Literate Text and a Literacy Tradition in African-American Churches, coauthor of Everyone's an Author (composition textbook), editor of Literacy Across Communities, and coeditor of Writing Groups Inside and Outside the Classroom and Best of the Independent Journals in Rhetoric and Composition 2012. Professor Moss has served on the editorial boards of College Composition and Communication and the Studies in Writing and Rhetoric series and currently is on the editorial board of Community Literacy Journal. She also serves on the advisory board of the Coalition for Community Writing and as director of Second-Year Writing at The Ohio State University. She is currently writing a book on the literacy practices of Phenomenal Women Incorporated, an African American women's service and social club. A longtime faculty member of the Middlebury Bread Loaf School of English, Professor Moss is now the director of the Middlebury Bread Loaf Teacher Network (BLTN), a professional development network of current and former Bread Loaf teachers who teach primarily in public schools in rural and urban settings.
Exemplar Award Winners
Watch Charles Bazerman's acceptance of the 2020 CCCC Exemplar Award.
2021
Beverly J. Moss
2020
Charles Bazerman
2019
Cheryl Glenn
2018
Kathleen Blake Yancey
(watch Kathleen Blake Yancey's acceptance speech during the 2018 CCCC Annual Convention Opening Session)
2017
Deborah Brandt
(watch Deborah Brandt's acceptance speech during the 2017 CCCC Annual Convention Opening Session)
2016
Sondra Perl
2015
Sharon Crowley
2014
Gail E. Hawisher and Cynthia L. Selfe
2013
Keith Gilyard
2012
Mike Rose
2011
Edward M. White
2010
W. Ross Winterowd
2009
Victor Villanueva
2008
Patricia Bizzell
2007
Peter Elbow
2006
David Bartholomae
2005
Erika Lindemann
2004
Jacqueline Jones Royster
2003
Winifred Bryan Horner
2002
Art Young
2001
Lynn Quitman Troyka
2000
Muriel Harris
1999
Geneva Smitherman
1998
Janice Lauer
1997
Ann E. Berthoff
1996
Edward P.J. Corbett
1995
James L. Kinneavy
1994
Andrea Lunsford
1993
Richard Ohmann
1992
Janet Emig
1991
Richard Lloyd-Jones