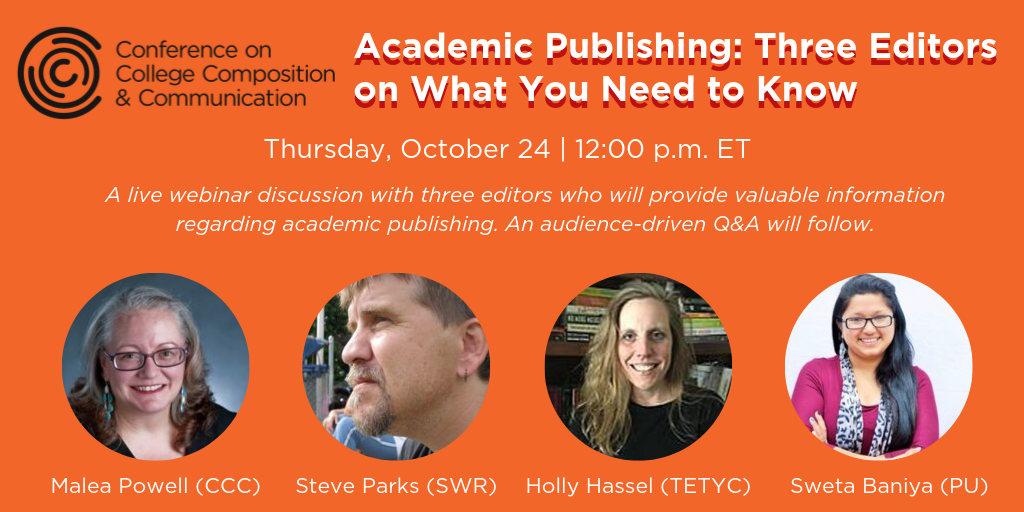 Thursday, October 24, 2019
12:00–1:00 p.m. ET
CCCC membership is required to attend this event.
In this CCCC webinar, three editors provide viewers with valuable information regarding academic publishing. These editors are Holly Hassel (TETYC), Malea Powell (CCC), and Steve Parks (SWR). Together, they advise viewers on navigating the sometimes confusing publishing process. In addition to discussing from an editor's perspective what they each look for in reviewing submitted works, they address ways to improve your odds of avoiding rejection straight away due to easy-to-fix issues. They demystify the process, explaining what new writers can do to meet their respective venue's requirements, what sorts of mistakes almost always guarantee initial rejection, and how to locate more information about a venue's expectations before submission. The editors also provide insight on handling revise-and-resubmits and suggest why new authors should consider submitting to NCTE publishing venues. An audience-driven Q&A with the editors follows, facilitated by Purdue University graduate student Sweta Baniya.
During the conversation, share your learning on Twitter at #4Cchat.