We welcome all 2023 CCCC Annual Convention attendees to join us for these special events during the Convention! Please note that unless otherwise noted, all events will be held in person only.
Thursday, February 16
Newcomers' Coffee Hour, 7:30–8:15 a.m.
The CCCC Newcomers' Orientation Committee looks forward to meeting you at the Newcomers' Coffee Hour, a congenial start to the first full day of activities, where you can begin the kinds of professional conversations that have made this conference one of the high points of the year for each of us.
Opening General Session, 8:30 a.m.–10:15 a.m. (Livestreamed)

Scholars for the Dream Reception, 6:00–7:00 p.m.
Come celebrate and network with the 2023 CCCC Scholars for the Dream recipients!
Anzaldúa Award Reception, 7:00–8:00 p.m.
Come celebrate and network with the 2023 CCCC Gloria Anzaldúa Award recipients!
Friday, February 17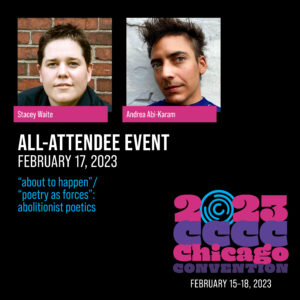 CCCC Poet's Keynote, 11:00–12:15 p.m. (Livestreamed)
"about to happen"/"poetry as forces": abolitionist poetics

This year's keynote features poet, educator, and scholar Stacey Waite (Butch Geography and Teaching Queer) and Andrea Abi-Karam (Villiany (author) and We Want It All: An Anthology of Radical Trans Poetics (co-edited with Kay Gabriel)), a trans, Arab-American punk poet-performer cyborg, workshop facilitator, and activist. Waite and Abi-Karam will each read from their work as well as engage in dialogue with each other and Program Chair Frankie Condon about poetry's provision of "a way to inhabit revolutionary practice, to ground ourselves in our relations to ourselves and each other, to think about an unevenly miserable world, and to spit in its face" (Abi-Karam and Gabriel). The title of this year's keynote is drawn from the work of Chilean poet and artist Cecillia Vicūna.
Stacey Waite is associate professor of English and graduate chair at the University of Nebraska-Lincoln and is the author of four collections of poetry: Choke (winner of the Frank O'Hara Prize for Poetry), Love Poem to Androgyny, the lake has no saint (Winner of the Snowbound Prize for Poetry), and Butch Geography. Waite is also the author of Teaching Queer: Radical Possibilities for Writing and Knowing.
Andrea Abi-Karam is a trans, Arab American punk poet-performer cyborg. They are the author of Extratransmission, and with Kay Gabriel, they co-edited We Want It All: An Anthology of Radical Trans Poetics. Their second book, Villainy, reimagines militant collectivity in the wake of the Ghost Ship Fire and the Muslim Ban.
CCCC Annual Business Meeting, 4:15–6:00 p.m. (Livestreamed)
CCCC Awards Presentation, 6:00–7:15 p.m. (Livestreamed)
During this presentation we announce the recipients of the 2023 CCCC Awards. Past CCCC Chairs, distinguished guests, and international participants will be recognized. Please take the time to come celebrate with your colleagues.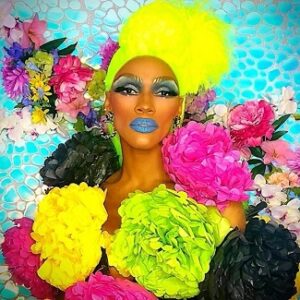 Performance by The Vixen and Open-Mic Drag Show, 7:15–9:30 p.m.
The Vixen is a multitalented performer dedicated to making the world a better place. Growing up on the South Side of Chicago, she has always intertwined her art with social justice and activism. An accomplished drag queen, songwriter, fashion designer, and dancer, she credits her creative family for her love of the arts. As a student at Columbia College in Chicago, the Vixen learned the makeup skills it took to create her growing drag persona. After turning 21, she quickly gained attention in the Chicago drag scene for her athletic performance style.
Through hard work and dedication, the Vixen has become an influential member of Chicago's gay community—interviewed by many publications for her unique style and outspoken viewpoint. As a rapper, her bold lyrics and intricate delivery have earned her national attention for her show-stopping collaborations. Her proudest achievement is creating BlackGirlMagic, a drag concert where queens of color can celebrate their unique experiences through storytelling and performance. The Vixen lives by her grandmother's belief that helping others makes life worthwhile.
The Vixen's CCCC 2023 performance will feature dance and spoken word and an open-mic drag show following. So, Queens or Kings, if you want to add your name to the roster for open-mic drag night, please send your name, song, and a list of any props you'll be using (this is a BYOP performance, by the way) to our MC, Dr. Tommy at tmayberr@ualberta.ca before midnight on January 23, 2023.
Saturday, February 18
Teacher 2 Teacher, 9:30–11:30 a.m.
Teacher 2 Teacher (T2T) offers CCCC Convention participants a dynamic professional development and networking opportunity. All CCCC 2023 attendees are welcome to join.